A revolution in the conditioning, treatment and reuse of urban and industrial sludge
Unparalleled economic and environmental performance
SLG is a breakthrough technology that significantly optimises the conditioning of urban and industrial sludge by modifying its physico-chemical and rheological properties. The solution improves the overall performance of sludge treatment plants, reduces sludge volumes and lowers treatment plant operating costs.
SLG uses air and energy exchange to modify the structure of the sludge. The bound water is released and the "SLG sludge" floats. Adding polymers completes the flocculation optimisation phase of "SLG sludge", which is then treated by the dewatering equipment already in use in the plant. During installation of the SLG solution, Orège adjusts the operating settings of the dewatering equipment to adapt them to the modified physico-chemical and rheological properties of "SLG sludge" so ensuring optimal performance.
SLG is a compact technology that can be easily integrated into existing equipment at wastewater treatment plants, significantly improving thickening and dewatering performance without affecting everyday operations.
Main advantages

reduces the volume of thickened and/or dewatered sludge
increases the hydraulic flow capacity of treatment
reduces polymer consumption
improves the quality of treatment filtrates

Additional benefits

reduces carbon footprint
mitigates odours and corrosive gas emissions
improves the viscosity and capacity of sludge pumping
reduces energy use

Areas for sludge reuse (under development)

improve the agronomic reuse of sludge: spreading, composting and landfill
boost biogas production
develop the energy reuse of sludge
Flosep
SLGSLG sludge conditioning and thickening solutions
SLG
Screw pressesSLG sludge conditioning and dewatering solutions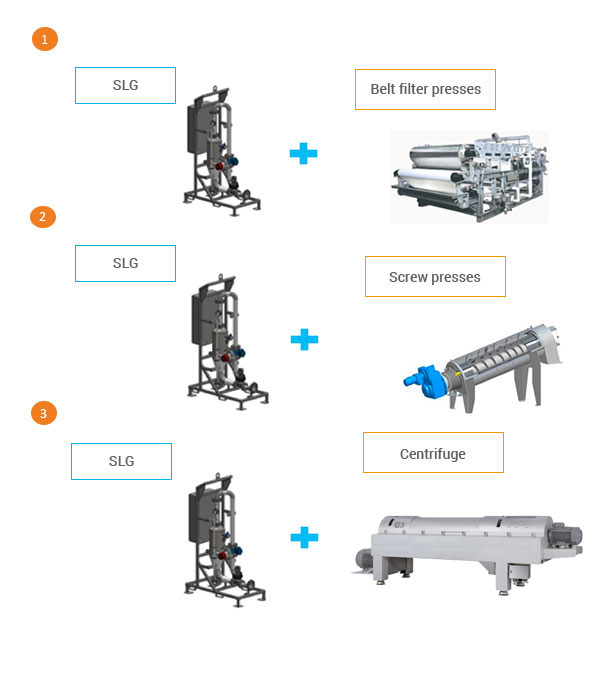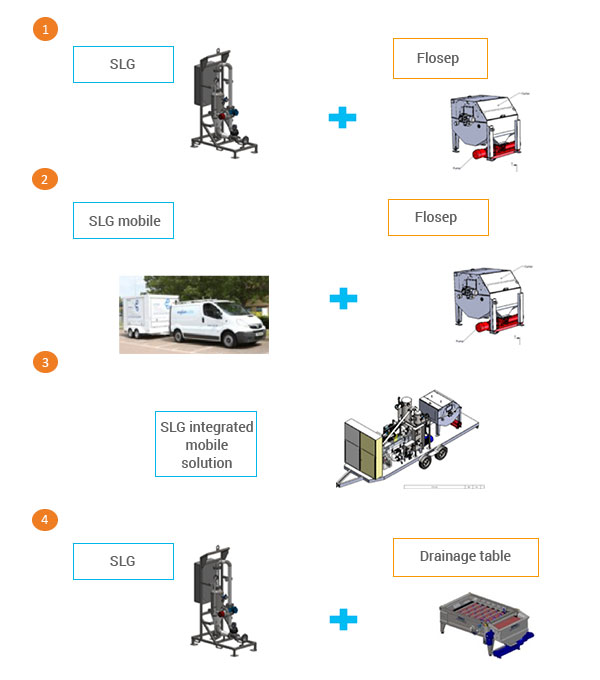 SLG optimisation solutions for the entire sludge plant
SLG + Flosep Digesters SLG Centrifuge
Some SLG references
Client
Application
Thickening / dewatering
equipment including
Orège equipment
Main advantages of SLG
& return on investment

Jacobs/CH2M
(Lehigh County – North-east USA)
Mixed municipal/
industrial WWTP

Dewatering

SLG + Belt filter

• Reduction in sludge volume > 20%
• Increase in hydraulic flow > 30%
• Reduction in polymer use > 30%
• Return on investment < 3 years

City of DeLand
(Florida – USA)
Municipality

Dewatering

3 SLG combined with
3 belt filters

• Reduction in sludge volume > 35%
• New method of reuse for spreading and fertiliser production

Two Rivers
(Noth Est- USA)


Municipality

Dewatering

SLG + Belt filter

• Treatment flow doubled
•  Return on investment < 2 years

Mullins Cheese
(Wisconsin – USA)
Cheese producer

Dewatering

SLG + Screw press

• Reduction in volume of sludge for winter storage and number of evacuation trucks > 50%
•  Return on investment < 3 years

Anglian Water
(UK)
Water utility

Mobile thickening

SLG mobile + Flosep fixe
SLG F solution mobile complète

• 50% to 70% reduction in volume of transported liquid sludge
• Reduced carbon footprint
• Rapid installation on different sites, with virtually no infrastructure
•  Return on investment between 2 and 4 years

Wessex Water
(UK)
Water utility

Mobile thickening

SLG + Flosep mobile
SLG F complete mobile solution

• 50% to 70% reduction in volume of transported liquid sludge
• Rapid installation on different sites, virtually without infrastructure
• Sludge can still be pumped at 5.5% DS
• Thickening of septic sludge from 2.5% to 7.5% and high quality filtrate below 200mg/l of Mes
•  Return on investment < 3 years

Ortec-Group / LyondellBasell
(Fos sur Mer – France)
Petrochemical industry

Dewatering

SLG + Belt filter

• Reduction in sludge transport cost > 30%
• Treatment flow doubled
• Return on investment < 2 years

Sappi Ehingen
(Germany)
Factory manufacturing paper pulp and special paper

Dewatering of sludge from paper production and excess sludge

2 SLG combined with
2 "winklepress"

• Reduction in sludge volume to be disposed of > 20%
• Increase in hydraulic flow > 50%
• Reduction in polymer use > 30%
• Reduction in odours
• Return on investment < 3 years